Are you a Bath or a Shower person?
Posted on Wed May 11, 2022.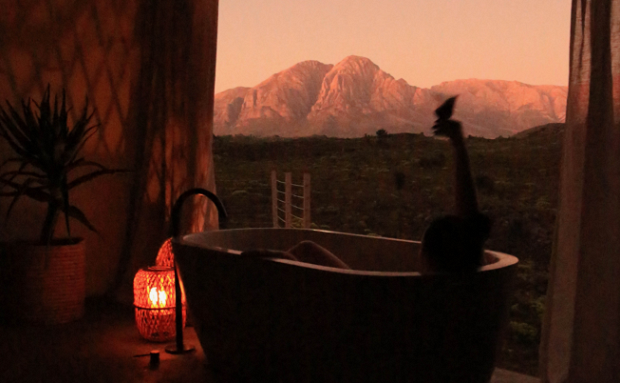 "There must be quite a few things that a hot bath won't cure, but I don't know many of them."
A very serious question and a hotly debated topic. Here we explore some of the most exciting bath and shower experiences in South Africa, so you can have your cake and eat it too.

The advocates for a bath would say 'how could you not'?! Especially with a lit candle and a view to top it off. But in all seriousness, one cannot deny that a soak in a hot bath does wonders for the soul. For those who do it solo, it offers an escape, some time to be alone with your thoughts. For those who do it together, it offers a space to be intimate and spend some quality time together.
For the shower lovers, there is nothing quite like a steaming shower. The only thing that can level this up is an OUTDOOR steaming shower - and even better, a shower with a view. There is something simply satisfying about standing below a stream of high pressure water, washing away reality in a short space of time. 
In this blog we explore some delightful stays across South Africa that go above and beyond to make this seemingly mundane daily task of self-cleansing a memorable or even magical one. 
It would be wrong not to preach our support on not wasting water. This is a precious and finite resource so always be mindful of using it wisely. A long shower or a soak in the bath should be viewed as a treat, indulged once in a while - we give you full liberty to bath or shower, guilt-free, at these wonderful locations. 
Bucket-List Baths
Oomblik Cabin | Mount Bain Nature Reserve | Sleeps up to 4 
Verreaux's Eagle Cabin | Cederberg Valley | Sleeps up to 3
Faraway Cottage | McGregor | Sleeps up to 4
River Cabins | Magoebaskloof | Sleeps up to 2
Hide | Montagu | Sleeps up to 4 
Steamy Showers
Radio Nowhere | Tulbagh | Sleeps up to 2
Milkwood Cabin | Wilderness | Sleeps up to 3
Boshuis Farm Stay | George | Sleeps up to 4
The Forge Cottage | Wilderness | Sleeps up to 6
Stonewood Mountain Cabin | Mount Bain Nature Reserve | Sleeps up to 6 
Lagom Place | Romansbaai | Sleeps up to 2
 Rockwood Karkloof Farm House | Howick | Sleeps up to 8
Rockwood Karkloof Farm Cottage | Howick | Sleeps up to 4