Keeping It Real Part 2
Posted on Wed November 3, 2021.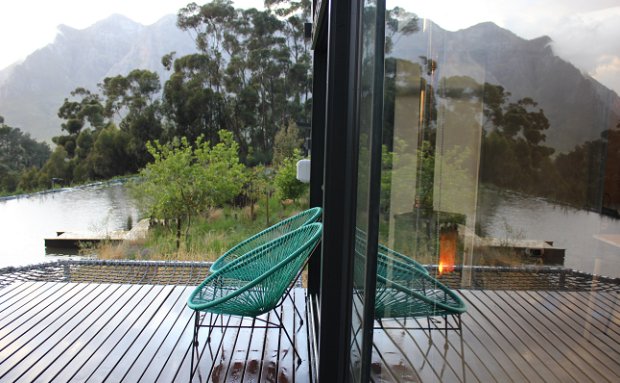 "Never stop learning, because life never stops teaching" - Lin Pernille
Part 1 I Lifetree Collection travel stories - what we have learnt about our properties, and ourselves along the way.
After laughing hysterically at recalling some of the situations we had encountered on one of our most recent trips, we thought it would be fun to periodically share some of our travel stories with you. Our lighthearted accounts include insider details of our properties, as well as what we have learnt about ourselves along the way!
BREATH-TAKING IN BANHOEK
Stop one on our three day remote working road trip starts in the breathtakingly beautiful Banhoek Conservancy between Stellenbosch and Franschhoek. After casting our votes, we jump in the car and head out to a wet and rainy Camissa Farm. 
On arrival our number one priority is to get the wood-fired hot tub lit, but we have a small issue... it is pouring with rain and the base of the drum has a layer of water in it; the prospects of getting a fire going are dim given the circumstances. Determined to fire up the KolKol, we layer the bottom of the drum with the biggest pieces of wood we can find and proceed to build the fire on top. Now, to light this thing, one of us holding a chopping board over the drum while the other lites a match. Feeling extremely chuffed with ourselves, we proceed to pop the lid over the blazing drum and take cover from the rain inside the cabin. We sit at the window, patiently waiting for smoke to drift out the vent... but alas it is a fail. We walk outside, lift the lid and hang our heads in disappointment. At this point, the rain starts to get even heavier, we jointly decide the only thing that can possibly fix this situation is a big glass of wine - we jump into the car and head to Bartinney Wines, a short drive away (you can actually walk to Bartinney but the rain had other plans for us).
Once back and with a renewed sense of energy we make a second attempt at lighting the fire. This time we have done something right, the fire is blazing out the top of the drum! We get my husband on a WhatsApp video call to ask for advice on how to proceed from here, his first words were... 'great fire' (both of us grinning with pride). He instructs us to slide the lid on gently leaving a gap to let air in, something we had neglected on attempt one, no wonder! We quickly forget this faux pas and patiently wait for the water to heat up after enjoying a much deserved two hours wallowing in the water, watching the sun set and drinking bubbly. Our advice - Google how to start a KolKol, it will save you a lot of time and energy!!
The Scandinavian styled Rosemary Cabin is wonderful - we could have easily stayed the whole week. You feel as if you are in another world at Camissa Farm, it is so peaceful. The cabin has a an indoor wood burning fireplace that works like a charm, keeping the cold at bay on those chilly evenings. Bartinney Wines is a short walk away and accessible through a shared farm gate. There are also plenty of stunning farm walks and opportunities to spot birds. Our recommendation - take a good book and plonk yourself on the sofa. The floor to ceiling windows mean that you don't miss the beautiful views. There are four other cabins on the farm; Camissa Cabin, Avocado Cabin, Almond Cabin and The Bed in the Shed, all bookable through Lifetree Collection. This is hot property so make sure to book well in advance. 
INSTRUCTIONS ARE MEANT TO BE READ
From the moment we arrived, our problem-solving skills were obliged to kick in - at no fault of the cabin. We often complain that people do NOT read; well, we bite our tongues!! Stonewood Mountain Cabin has a straightforward, logical system of steps one needs to follow after checking in. A link is sent with a password to enter a secure site with all the instructions you need for your trip... of course we were running around the cabin like headless chickens looking for the matches, how to light the gas braai and where to find the WiFi password – yet the instructions had been neatly laid out on the link sent prior to our arrival. She swiftly unsends Instagram DM to hosts… thank goodness they haven't read message.
In our defence, we were required to pull some problem-solving skills out the bag when the gas braai was insistent on not igniting – what was the first logical step to take? Get a man on the phone to assist. After clicking every knob about one hundred times in the hopes that the next time it would magically ignite, we thought it would be best to check if the gas bottle was empty... ha, it's empty! We swiftly switch out the bottle with the new one left on standby by our hosts. Needless to say our chicken kebabs we only ready after 22h00. At least we can consider ourselves gas braai experts now.
On to the next challenge of the stay, no hot water – what are we doing wrong?! Instantly we think we are being daft only to realise 12 hours later, insistent on not having a cold shower and now rather smelly, that in fact we had done everything right and could follow an instruction. It turns out the geyser battery had run out. Right,  gloves on and in we dive to fix this under the instruction of our very patient, resourceful and apologetic hosts! We scream in delight and jump up and down! If you have browsed Stonewood's listing you will see why we simply couldn't miss out on a steamy shower here.
All in all, what a truly wonderful stay. You simply can't take your eyes off the view, it is truly breathtaking from the cabin's unique vantage point. There is ample living space and an audaciously large wooden deck with plenty of  outdoor furniture to take advantage of being in nature. Fitted extremely comfortably, there wasn't a moment we were left wanting. The small touches didn't go unnoticed; we arrived to a bottle of bubbly and some Lindt chocolates. We enjoyed spotting birds, watching sunsets and sunrises from the deck and swimming in the Witte River, a short walk down the pass. 
We look back and smile at each event, each of us feeling empowered at the lessons learnt. Our creative juices emerged and we bonded over these shared experiences! As is so aptly put by Brian Hebert, "The capacity to learn is a gift; the ability to learn is a skill; the willingness to learn is a choice"... and we say - bring it on!!