When Passion Meets Purpose - A New 'Hide' Cabin in the Making
Posted on Tue February 15, 2022.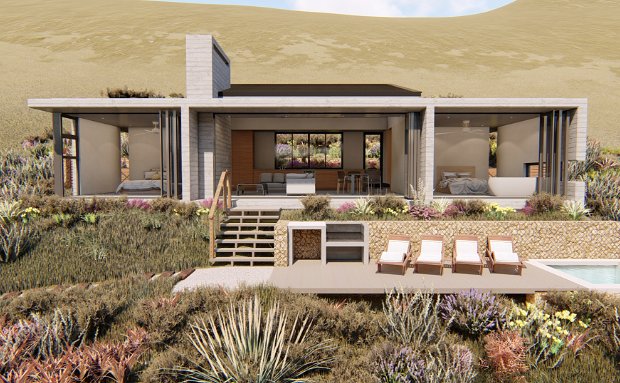 Check this out! A brand new luxury cabin is being built in Montagu, opening in April 2022. We get the scoop from owners Delamaine and David, who share their story as their passion project comes to life.
With fifty percent of the build complete, the Hide in Montagu, a secluded cabin on Le Domaine Eco Reserve with stunning views over the Montagu Dam, is slowing taking shape. Every aspect of the cabin is designed to live up to the promise of 'comfort while being immersed in nature'.
Delamaine and David have been kind enough to give us, and you, a sneak peek into their journey. Set to open its doors in April 2022, we prepare you to be both mind blown and well prepared to book your stay in advance at this stunning spot. 
Having both grown up in Cape Town, Delamaine and David crossed paths at UCT. Armed with degrees in Property Studies and Engineering, both guys landed up in the corporate world in Johannesburg before eventually returning to Cape Town, seeking a life closer to family and determined to fulfil a dream of building a luxury cabin in nature. Delamaine currently works in marketing, having spent years in the FMCG space and David owns and works at his own financial services firm, specialising in cryptocurrency and arbitrage. 
We wanted to unpack why Delamaine and David chose Montagu as the destination to build their cabin. Here is what they had to say; 
"We were looking for a place that one can escape to for a breather from the stresses of the city. We were looking for a surrounding that is wholesome and takes one back to the basics. We were looking for an antidote to stress, and we believe it's nature. While nature has been a constant for humans throughout time, it is what we lack most in modern city life.
We had the idea of finding a farm or somewhere where there is a 'feel' of being part of the farming lifestyle, but we had to look for somewhere that's (1) very safe, (2) not too secluded or too close to the centre of a town or "dorpie", and (3) where we're not required to 'work the land' - we didn't have a working holiday in mind 😉
Well, we (re)discovered a town called Montagu in the Little Karoo. It is quaint as the name suggests, but we love Montagu for many reasons including; 
It is situated on the famous and scenic (wine) Route 62
The town is charming and well-kept with many interesting cafés, deli's and restaurants
It has a rich history with monuments, museums and old forts scattered across the small town
The flora is also out of the world, the vegetation type being 'Shale Renosterveld', but it is also a succulent ("vygie") heaven
The people are incredibly friendly (probably because the town is known for having the best sunny weather in South Africa!)
It's an agricultural centre where orchards and vineyards meet, famous for its export-quality dried fruit
It is a mecca for awesome rock climbing, hiking and mountain biking
… and what's more, it's only a 180km (2h15m) drive from Cape Town." 
Delamaine and David have described their journey thus far to be super rewarding. Here is what they have loved about the process, especially as they describe some of the stand-out elements of the cabin;  
"We have stayed in the most amazing holiday houses and farm stays in the Western Cape, but we have always dreamt of having 'the best aspects of everything we've experienced' in one design. So, undoubtedly, the most rewarding part of the experience to date has been the freedom of having a blank canvas and designing from scratch a space and 'feel' which we believe will match our vision of a 'hide' or 'hideaway'.
Here are a few of the elements that we managed to integrate into our small and modern cabin-like hide:
A modern, off-shutter concrete roof and structure, which provides for not only a cool aesthetic, but also a cool temperature in the blistering Montagu sun
A planter separating the cabin and the 'stoep' deck that allows one to still feel close to nature
A roof planter/ garden, fully irrigated, which can light up in the evening
Unobtrusive lights in the natural fynbos garden, allowing you to see the beautiful greenery at night
Skylights giving the feel of volume in the living area, but also offering views of the sky towards the back; in contrast, the bedrooms have a low roof to make the room more cosy
A splash pool, with a seat in which one can sit to relax
A sunny deck to tan on next to the pool, and if it's too hot, we have a shaded courtyard with a typical Montagu vine-pergola which opens toward the back of the cabin from the kitchen
Both an outside bath and an outside shower, with the inside shower having two shower heads
An kitchen with 'open' shelves, so that new guests don't need to struggle to find cutlery and crockery
There is a very big fireplace inside that's also suitable for 'potjies'
We have a pizza oven in the design phase which will allow guests to experiment with pizza making
And, of course, we have a braai - but different to the 'braai' at home in that it's a fire pit out the front on the 'stoep' deck; as it is elegant (almost Swedish) we hope it encourages people to socialise around the fire!
The above are some of the elements we had designed and seeing them turn from drawings and renders into a physical structure and space is a feeling of euphoria. We are constantly surprised by how beautifully the design has materialised and our expectations have been exceeded. So far! Touch wood.
As we all know, building notoriously comes with it's challenges... here is what Delamaine and David have found to be the most difficult during the build process to date; 
"Well, there are always challenges aren't there? And yes, true to the cliché, the rising costs and its associated stresses have crept in.
There seems to have been a mistake with the land surveyor's diagram which was left unnoticed for too long, and the entire cabin is now a meter higher than planned! While one would assume it's a small mistake, it's actually a big one with many consequences. We have had to redraw plans, purchase more material, incorporate extra (and expensive) reinforcement and filling, mitigate the need for balustrades, and the list goes on. However, it will all be worth it in the end 😉"
We love meeting the geniuses behind the masterpieces we list on Lifetree Collection. We have no doubt that this cabin is going to be sublime! It has been an absolute pleasure getting to know the two gents behind this build who will unquestionably make great hosts.
WATCH THIS SPACE!